Discover the Picture Place Difference
We provide the highest-quality prints, including mounting and custom framing options, to brighten your world with superior portraits that will stand the test of time.
The Following is information on the Products we currently offer, please feel free to email us with any questions at info@warrenpictureplace.com
Professional Quality Prints
Three professional grade photo papers, top of the line printers and a skilled team of color technicians that review every single image.
Super Fast Shipping
The fastest turnaround time in the industry. Print orders ship in just one business day, getting your prints to you faster than anywhere else online.
Exceptional Customer Service
100% satisfaction guaranteed. Every print is hand checked for quality before it ships. We don't settle for less than the best, and neither should you.
Types of Photo Paper
E-Surface Paper (Standard Photographic Finish)
E-Surface Paper is our most popular photographic paper. Accurate color, lifelike skin tones, archival quality and a traditional photo finish are just a few reasons why you will love E-Surface Prints.
Fuji Pearl Paper (Glossy Metallic Finish) / True B&W Paper (Classic Matte Finish)
Fuji Pearl Paper uses a patented combination of film and laminate layers resulting in a striking metallic shine. Its ultra-bright backgrounds and smooth photo finish will make your special moments last a lifetime.
True Black & White offers rich black continuous-tone prints, avoiding any tints of color. Perfect for all of your black and white shots, this matte photo paper creates beautiful prints that will last for a lifetime.
Lustre Coating
Our Lustre Coating adds a rich sheen to your prints and protects against fingerprints and UV exposure.
Mounting
Single and Double Weight Matboard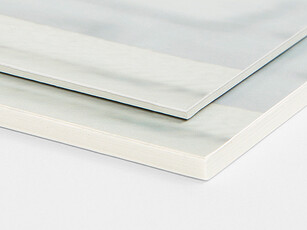 Mounting your print on matboard not only gives the print extra support, but it also helps preserve the value of the print over time. Our single-weight matboard is 1/16" thick and our double-weight matboard is 1/8" thick.
This product is meant for framing. The print and mounting material do not match perfectly in size. Also, the mount can warp if not framed.
Foam Core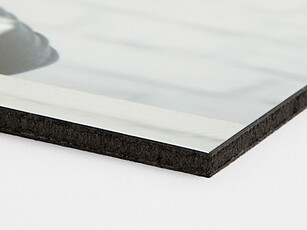 Have your image mounted on 3/16" Foam Core for a little extra support. When ordering Foam Core mounting please note that Foam Core has an unfinished, slightly rough edge.
This product is meant for framing. The print and mounting material do not match perfectly in size. Also, the mount can warp if not framed.
Standouts:

Similar to mounted prints, Standouts are printed on photographic paper, then mounted to 1.5" thick Gatorfoam. Unlike our typical mounting options, Standouts do not require framing, arriving on your doorstep ready to hang with pre-drilled holes in the back.
Canvas
Canvas on Matboard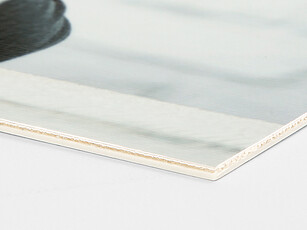 Give your prints gallery-level quality with our canvas bonded to matboard. The canvas provides the rich texture for your print and the matboard gives it a sturdy backing that prepares it for framing or other types of display.
This product is meant for framing. The print and mounting material do not match perfectly in size. Also, the mount can warp if not framed.
Modern Metal Prints
Transform your favorite photo into an eye-catching piece of contemporary wall art with a Modern Metal Print. Metal Prints give your images a sharp and striking finish that allows all of the details of your photo to shine like never before.
Metal prints are float mounted on a 1/16" aluminum and are ready to display as soon as they arrive - and with the lightning fast turnaround that we are known for, your Modern Metal Print is only just a few days (and a few clicks) away.
Order your photos to be printed on metal today and add a classy and stylish touch to your home decor.
Framed Prints
Use an image on our site to create unique and beautiful framed prints here online with WarrenPicturePlace.com. Choose any one of our three pro-quality photographic papers, including E-Surface, Fuji Pearl and True Black and White, for an exquisite heirloom piece that can be enjoyed for generations.
With 16 frame finishes, from Espresso Walnut or White Flat, you're sure to find the perfect frame to express your personal style. Add durability to help your framed prints stand the test of time with superior mounting and mat options. Frame sizes range from 3.5x5" all the way up to 20x30" from maximum design possibilities and our glare-free glass ensures sunup to sundown viewing pleasure.
Create Quality Photo Books & Photo Albums
Tell the story of your sessions images with a personalized Photo Book or Photo Album. Our Photo Books are filled with luxurious papers and high-quality printing, then wrapped with a custom photo or art cloth cover.
Create an elegant visual narrative of your memories in just a couple easy steps. Drag-and-drop your photos into the Photo Book or Photo Album design of your choice or have them placed automatically. Once done, it's shipped in a matter of days so that you can share with family and friends as soon as you get your hands on it.
Don't let your photos spend eternity on a disc, flash drive or desktop. Celebrate life's special moments with Photo Books!
Order Custom Photo Magnets
Custom Photo Magnets are the ideal way to make a memory last or to send a message that gets noticed - and sticks around! Send as a gift for loved ones to enjoy your family photos every time they open the fridge.
Order a 2x3.5" or 3x4.5" custom Photo Magnet printed on any of our professional quality paper choices (E-Surface, Fuji Pearl or True Black and White) and adhered to a durable magnetic backing. All you have to do is choose your photo and choose your size, your paper and how many you want to order. WarrenPicturePlace.com takes care of the rest. In just a few days your top-quality and personalized Photo Magnets are delivered.
Yep, it's that easy. No, we're not kidding. So what are you waiting for?
Shipping Rates and Options
When ordering choose between our FedEx - Next Business Day service, or regular US Mail shipping.

U.S. Shipping Rates
| | |
| --- | --- |
| US Mail (5-10 Business Days) * †† | $4.25 |
| US Mail - Priority (2-5 Business Days) * †† | $8.25 |
| FedEx - 1 Business Day (Mon-Fri Delivery) ** † | $12.95 |
| FedEx - 1 Business Day / Signature Required (Mon-Fri Delivery) ** | $14.95 |
* USPS will not guarantee delivery times. Shipping time will vary depending on your location. Please allow additional time during the holidays
** FedEx shipping is only available Monday-Friday. Saturday delivery is not available.
† Orders 20x30 and larger will ship via FedEx 2nd day service.
†† Orders shipping to the U.S. Virgin Islands and Puerto Rico must ship via US Mail.
Please Note: 1st Class Shipping is available for orders of 50 prints or less that contain print sizes 5x7, 5x5, 4x6, 4x5, 4x4 and/or 3.5x5. 1st Class Shipping is also available for orders of 15 prints or less containing print sizes 8x10, 8x8, 6x9 5x7, 5x5, 4x6, 4x5, 4x4, 3.5x5 and/or wallets. With the exception of Lustre Coating, orders containing other prints sizes or additional options must be shipped via US Mail - Priority or FedEx. Boutique Packaging (see below) is not available with 1st Class Shipping.

Canadian Shipping Rates
| | |
| --- | --- |
| FedEx Priority International 1-2 Business Days | $30.00 |
Please Note: Duty and taxes are applied when your order arrives, and are not part of our shipping charge.
*Pricing and Availability of all Products and Services are Subject to change without notice.